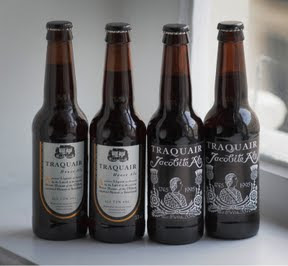 The latest glamorous arrival at stage-door here at the Haymarket is this quartet from Scotland's
Traquair
.
Founded by her father, Peter, in 1965, Catherine Maxwell Stuart has since taken the reigns at this renowned brewery, and she has done so in some style - with the global impact of the brand reaching ever wider and the awards continuing to stack up.
The two beers to sample and savour are :-
Traquair House Ale
(7.2% ABV) - Their flagship brew. A strong, quintessentially Scottish ale.
Jacobite
(8% ABV) - Strong, dark ale. Initially brewed as a commemorative beer, but proved way too popular.
As soon as these bottles arrived here at the theatre, their striking appearance caused something of stir backstage, resulting in me agreeing to bring back the empties in order for them to become candle holders or display items in showbiz homes all across London.
Given the obvious visual appeal of these beers, it seemed only right to bring in a professional to photograph them, so, man of many talents
Jim Crieghton
did the honours here.
These powerhouse ales have mighty reputations.
If they taste anything like they look - I could be in for a couple of real treats.
Stay tuned.