Today's Beer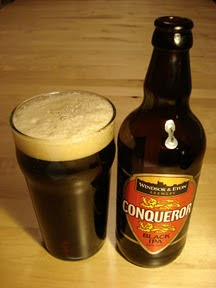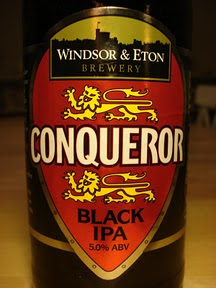 Name – Conqueror
Brewer –
Windsor & Eton
Classification – Black IPA
Strength – 5.0% ABV
Verdict - At A Glance
On the
eye
– Vivid, hypnotic black.
On the
nose
– Spices, herbs, wild-grasses and faint liquorice. Remarkable.
On the
tongue
– Smoky cocoa with an exotic, perhaps even
eccentric
twist.
On the
subject
– These Windsor & Eton chaps have managed to create the sense that they've been around for ages. That's partly due to the branding, but it's mostly due to the highly refined feel of their products. The reality is that they're actually one of the
youngest
breweries around, having only come into existence in 2010.
On the
market
– Not yet hugely stocked nationwide in the UK, but beer like this won't retain 'boutique' status for too much longer - however hard it tries. Try online at
Beer Merchants.
On the
whole
–
7.5/10
Full Review
Be afraid. Be very afraid.
It is no coincidence that this beer has been named 'Conqueror', because that is precisely what it intends to do to your taste buds - and it's not going to hang around for their permission.
This is a magnificently brutal drink experience which left me so very pleasantly invaded that I began to see entirely new justifications for global domination.
This beer makes war make sense.
And 'war' is pretty much what this ale is all about. A shrinking violet it most certainly is
not
. It bombards the mouth with smoke and spice, and offers only black treacle and double espresso as relief from the savagely delicious onslaught.
It is hugely enjoyable, and it's combative nature should in no way dissuade pacifists from partaking in a jar or two.
Everyone
should be encouraged to face this beast.
For those who demand a certain bullishness from their ales - those who frown upon beers lacking in substance, character or 'fight' - they will find a worthy ally in this brew.
Liquorice, treacle toffee, wild grasses, cooking apples, gooseberry - all pitch in with pugnacious exuberance, and it makes for a melee of the most distinguished kind.
Too much for some?
Well, I wouldn't be entirely surprised if a small number of newcomers to
Planet Ale
found this a bit too savage for their evolving palates.
But for the rest of us - particularly those of us who like to wrestle with the
mightiest
of delicious brews - there's all kinds of bloodthirsty fun to be had with this very impressive beer.
.