Today's Beer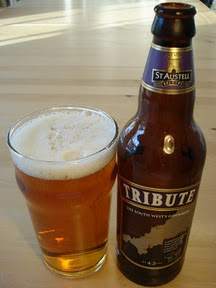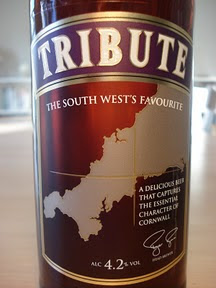 Name – Tribute

Brewer – St Austell

Classification – English pale ale.

Strength – 4.2% ABV


Verdict - At A Glance

On the eye – Light amber with a deep, ghostly tinge of rust.

On the nose – Punchy citrus. Subtle, but sumptuous malts.

On the tongue – Floral, zesty and refreshing. A very different drink to the Tribute I thought I knew. Read on...

On the subject - A massive presence in Cornwall, with a huge list of pubs under their control, the St Austell brand is by no means a purely 'local' affair. The brand is an increasingly national one these days.

On the market – Ubiquitous. By far the best known of the St Austell range. If you prefer not to leave the house - the brewery has a decent online shop.

On the whole - 8/10


Full Review

When I first discovered this beer - some three years ago - I fell entirely under it's spell after just a few sips, before going on to bore my beer loving friends half to death with endless reminiscences of the experience.

I've sampled many different types of ale since then (not least over these last few months!) and I was curious as to whether Tribute would have retained that mind-blowing early appeal.

Well, it transpires that the fascinating outcome of this return to an old favourite has two very distinct dimensions to it.

Firstly, the beer really has remained a very excellent and enjoyable English ale. But secondly - and much more intriguingly - is that this is not the excellent and enjoyable beer which I remember.
It - or much more likely my relationship with it - has evolved. This, to me, is a very fine - but very different - drink experience.

The Tribute I had been storing in my memory banks had a richly malty principle flavour theme with a complex citrus finish. But the Tribute that I've just rediscovered had a complex citrus principle flavour theme with a richly malty finish.

Pretty much the same characteristics, then - but all happening exactly the opposite way round.

I don't mind admitting that this total reversal of my initial response to the very same beer was both alarming and bewildering.

Had they tinkered with the recipe, or some aspect the brewing process, or had The Bottled Beer Year been tinkering with my own capacity to interact and properly 'read' an ale?

Or did I just catch Tribute in different 'mood'? If I've discovered anything about beer over the years, it is that lovingly crafted ales do often vary slightly in taste, texture and overall impact - and I've long-since referred to these variations as changes of mood.

The truth is, I'm sure I could never be certain what was behind this unexpected twist in Tribute's tale, but it's worth pointing out that, whatever the cause, the result was a drink which was now potentially even more delightful than ever before.

The floral, faintly grapefruit, faintly peach character of the high notes - though initially pretty wrong-footing to me this time around - are deliciously balanced and cleverly understated, and I could feel the brew leaning ever so slightly toward 'golden ale' status in a way that, again, I had never previously perceived.

What prevents it becoming a golden ale ('prevents' in the most pleasing sense, I should add) is the gradual spread of the most delicious malts, which counter the hop sharpness with gentle swathes of cookie dough and crusty granary loaves.

It's very impressive stuff.

Setting aside the apparent metamorphosis of this ale (in my experience, at least) there is little doubt that this is a very lovely beer indeed - one that any brewery in the land would be extremely proud of.

'Tribute' is perfect name for an ale which bestows so much honour upon it's maker.

Consequently, St Austell have simply given this beer the only name they could have.