Today's Beer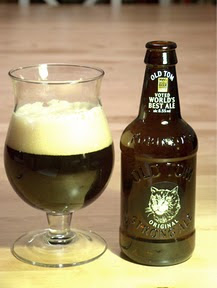 Name - Old Tom

Brewer - Robinsons

Classification - Dark strong ale

Strength - 8.5% ABV


Verdict - At A Glance

On the eye - Rubied espresso. Vampire coffee.

On the nose - Black treacle and liquorice. Bold, rich and quietly terrifying.

On the tongue - Deftly complex and delightfully powerful. A dangerously easy-drinking high strength beer.

On the subject - This famous ale is now branded 'Original' due to the arrival of the variant 'Toms' - Ginger Tom (Beer Year review here) and Chocolate Tom (review coming soon).

On the market - Wide availability. For a case-load (consult your doctor first!) try online at MyBreweryTap.

On the whole - 8.5/10


Full Review

I reckon I may eventually need to finish off this review some other time.

I sensed after just one mouthful that any great detail, entered into at any great length, may ultimately prove hard to sustain.

The reason for this is simple, and it has something to do with the 8.5% ABV rating printed on this bottle's label (which, I've soon realised, is no typing error) and it also has something to do with the fact that this high strength does little or nothing to stop you popping rapidly back for more and more sips.

Deadly combo alert!

So, before my mind dissolves entirely into mush, let me quickly talk a little about flavour - because alcohol is by no means the only thing that this excellent ale is packed with. The deepest, richest and most vivid flavour themes are at work here.

Liquorice, blackberry, dark boozy fruit cake, almond (as in marzipan), orange zest, red grapes, cocoa, faint aniseed - all blended and integrated with the kind of skill many breweries could only ever aspire to.

To be this strong and yet this nuanced - by heck that's an achievement.

The elegant lightness of the body is also worthy of mention - yet another aspect of this beer's frightening drinkability.

Just above that ABV rating on the label is written - with great pride, no doubt - a claim that this brew is (or at least it was according to the World Beer Awards back in 2009) the very best beer on the planet.

A reasonable claim?

Well, personally, I tend to spy a certain vulgarity when such impossibly subjective matters are stated like facts in this way (though I blame neither the brewery nor the organisers of this event for feeling the need to enter into the spirit of a good old public relations exercise every once in a while). I do also wonder whether an ale of such bloodcurdling power really ought to be hailed in this way on a global scale - looking at it from moral/public health perspective.

However, these small quibbles aside, there's really not a lot more I can say to counter the WBA's opinion because this beer is quite clearly a magnificent example of what a properly fine ale can be.

Anyway, I'm almost at the end of this glass now, so there's probably little or no point in trying to continue...

So, I'm just going to sit back and savour the last few drops of what some say is the single greatest beer of them all.

Don't be jealous.

Cheers.