Sat in an appropriately stately and regal fashion on the window-ledge of a certain beer-lover's dressing room here in London's West End - are four of the best from
Royal Tunbridge Wells Brewing Company.
When deciding to send them over, I wonder if those clever folk at the brewery spotted the happy irony that their crown-adorned beers would be arriving at the Theatre
'Royal'
Haymarket?
I felt embarrassed that a red carpet hadn't been laid on for their grand arrival, but I'll be sure to make up for that by treating every last one of them with the kind of heightened respect due to your average monarch.
Or, failing that, I might just drink them.
The beers form part of RTW's range of
'Spa Fine Ales'
and they are -
(from left to right)
Sovereign
- Blonde ale (3.8% ABV)
Royal
- Best bitter (4.1% ABV)
Beau
- Porter (4.8% ABV)
Dipper
- Bitter (3.7% ABV)
The mysterious black, label-free bottle in the picture is of course the
Beau
, which usually wears a coat like this -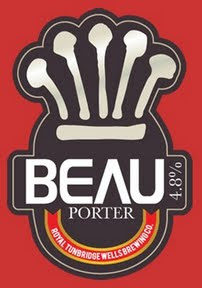 But, with this beer being grabbed straight off the production line, they sent the thing through naked.
Technically, this particular beer should be one of the freshest to be sampled here on
The Year
.
All four will get their own full features over the coming weeks.
I'm royally excited.